' Empowering Our Children'
Whakamanatia nga Tamariki o Motu Kairangi
"The school curriculum successfully provides opportunities for students to participate and 
celebrate achievement in a wide range of academic, sporting, cultural and leadership activities." ERO report 2014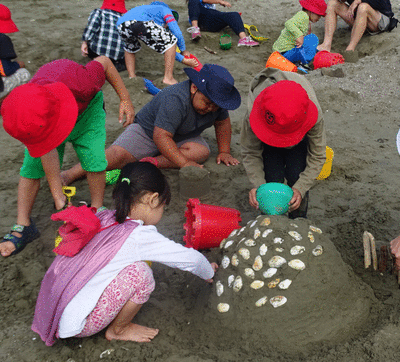 At

Miramar Central School

we look forward to working with you and your child to make the

lifelong journey

of education rewarding and

positive

.

We believe in the importance of learning to read, write, develop numeracy skills and have au

thentic learning e

xperiences.
Miramar Central School is a primary school that has a roll of 260 - 300 students. Our roll grows during the year.
We are here to:
motivate our children to strive for excellence through the principles, values and key competencies of the New Zealand Curriculum

teach our children to be confident with words and numbers

encourage our children to be culturally aware, caring and respectful

foster strong connections between home, school and the community

inspire our children to be successful lifelong learners who value the Arts and are connected via the technological developments that will benefit their learning.
Our current Education Review Office (ERO) Report 2014* comprehensively endorsed how we effectively deliver these objectives and values.  
Upcoming Events Term 1 2017
Calendar 2017
Term dates for 2017
Term 2 Monday 1 May – Friday 7 July
Term 3 Monday 24 July – Friday 29 September
Term 4 Monday 16 October – Friday 15 December
Term 2 Events:
All term Friday's Football for Rooms 11,12, 14 & 15
All term Wednesday's Swimming for Rooms 1, 2, 3 & 4
Week 4, 26th May - PTA Fundraiser
Week 5, 1st June - whole school cross country
Week 6, 8th June - Art expo

Week 6, 8th June - 13th June Book Fair in the Library
Week 6, 9th June - PTA Disco - Teina 5.45 - 7pm, Tuakana 7.15 - 8.30pm
Week 9, 28th June - 3 Way conferences; 29th June - 3 Way conferences
2017 Statutory Holidays: 
Anzac Day: Tuesday 25 April (during school holidays)
Queen's Birthday: Monday 5 June
Labour Day: Monday 23 October
Term Whole School Assemblies: 

HOE CEREMONY: At our assemblies we welcome new children to our school with a hoe (paddle) with their name and start date printed on it . The hoe is then placed in their class Waka (canoe) where they can help paddle with their classmates towards the class and school goals.
    Assemblies Term 2 start at 2pm: Our next assembly is Monday May 15th
                                                                                    AWARDS
Miramar Central School is always a very busy and happening place and this term was no exception.

PRINCIPAL'S AWARDS
SUCCESS-TUTUKI and PROMOTING EXCELLENCE are both cornerstones in our School Charter.
Principal's Awards are given and presented by the Principal at whole school assemblies for achievement or conduct of exceptional quality or effort.
Congratulations to: 
Hayden P, Clare Y. R1 ' Always listening to instructions and doing their best.' 
Ashton M, Nirav P. R4 'Excellent mapping work.'
Toby M. R3. 'Being very helpful and offering to tidy R7.'Leith H R1. ' Superb writing about D Day.'
Fiona G. 'Being a great support to both staff and students.'
Ben I. R1. 'Taking lots of risks with his learning.'
Ryan T. R1' Explaining and asking questions to make sure his group are on task.'
Soveana S R4, Somitta P R9. 'Excellent research work on budgies.'
Molita S R3 'Thinking and sharing wonderful ideas and always checking to find the information she needs.' 
William M, Bonnie L R8 ' Being kind friends to others.'
Taimutu R R1 ' Using adjectives and checking his work.'
Ben I. R1 'Answering reading questions using full sentences.' 
C CARD
Congratulations to our C Cards winners for being considerate, conscientious, courteous and/or caring: 
Cooper R3, Bonnie R8, Naveen R8, Serena R12, Ariya R12, Sisierra R12
CONTACTS
MCS Office: Jane Scadden - (04) 9390684  office@miramarcentral.school.nz
MCS Address:

      
Miramar Central School, 
38 Park Road, Miramar, Wellington.
                            P.O. Box 15048, Miramar, Wellington. 6022
Absence: If your child is going to be away please phone or email the office before 9am, 

we have a policy of following up any unreported absences in the interest of child safety and welfare

.
Late students: Late students need to report to the office to sign in.
Leadership Team:
Principal: Mr Taylor-Smith - principal@miramarcentral.school.nz     Check out: Principal's Blog 
Deputy Principal: K. McKiernan - mckiernan@miramarcentral.school.nz
Acting Assistant Principal: J. Hatley - hatley@miramarcentral.school.nz

Kowhai Special Education Centre: M. Doggett - (04) 9390687  doggett@miramarcentral.school.nz Check out: Kowhai Special Education Centre
School Hours - Bell Times

Arrival     

          

    

8:30 - 8:50am       

School Starts     

    

9:00am        

Morning Tea        

  

10:30 - 10:50am        

Lunchtime          

    

12:30 - 1:25pm        

Home Time   

         

3:00pm  

 

   














STARTING SCHOOL or LOOKING FOR A SCHOOL?




We currently have spaces available, please contact the office for more details- 

Jane Scadden- (04) 9390684       office@miramarcentral.school.nz




                                                                                           Check out:  Starting or Looking for a school?